Boat Runner is a moose-only game on Club Ducky. It is located at the Arcade.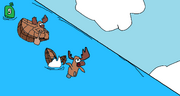 How to Play
Edit
Your moose is riding a boat. If a buoy, shark, iceberg, rock, a plank or an old boot, your moose falls and loses a life. You lose after being hit 6 times. The first to get to the finish line (player or NPC) wins.
Ad blocker interference detected!
Wikia is a free-to-use site that makes money from advertising. We have a modified experience for viewers using ad blockers

Wikia is not accessible if you've made further modifications. Remove the custom ad blocker rule(s) and the page will load as expected.